Inspiring EVERY Student to Make an ENDURING
Commitment to Jewish Life, Learning and Israel.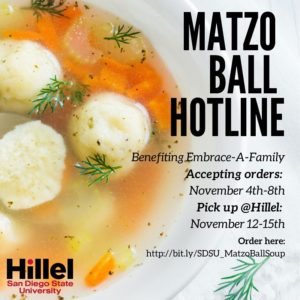 Matzo Ball Soup Orders are OPEN!
How does this work? Parents, alumni or students can order homemade matzo ball soup for a SDSU student. You can order a soup for yourself, for your friends, the more the merrier! Soup will be available for pickup at Hillel next week! All proceeds will go to embrace a family for the holiday season through @jfs_sd.