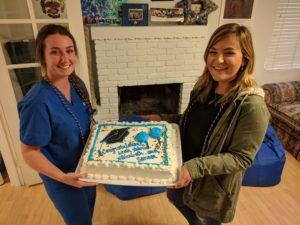 This year CSUSM Hillel honored four graduating seniors at our annual Grad Shabbat on May 11th. Joined by family and friends, each student was awarded a chord for their involvement with Hillel and given a book about a Jewish topic of interest to them.
Sanam joined Hillel at the end of her senior year when she discovered that there were Jewish roots on her mother's side. She became eager to learn everything she could about Jewish culture, holidays, and traditions. Sanam spent her senior year developing and managing our pinterest page and travelled on Birthright.
Leah is one of those rare students who just showed up at Hillel on day 1 of her freshman year. Leah served as our Co President for the 2016-2017 school year and worked to grow the club and our presence on campus. Leah planned countless events and attended a total of 3 Alternative Spring Breaks, as many as we offered over her time at CSUSM.
Valerie first came to Hillel during her sophomore year when she interviewed for our Hillel sponsored Birthright trip. After that trip, Valerie decided to become more involved with Hillel, serving as co-president during the 2016-2017 school year. Valerie was the MOST welcoming President I have ever seen. Every student who walked through the doors of Hillel was greeted by Valerie, offered a Diet Coke, and shown how to help themselves to snacks. Valerie also attended Alternative Spring Break in 2017, giving up her spring break to give back to the community and help others. Valerie also has the distinction of being the person who hung the mezzuzah on the Hillel building when we moved in 2 years ago.
Elizabeth was highly involved in the Jewish community growing up, so it was no surprise she found her way to Hillel when she was a student at Palomar. Elizabeth spent several years on Hillel's student board. She was here for countless sukkah builds, shabbat dinners, campus events, and bagels.
We wish our 2018 Graduates all the best.