Hillel of San Diego Agency Staff
Nearly a native after 25 years in San Diego, Lisa has held fundraising roles at San Diego Opera, Jewish Federation of San Diego County, United Way of San Diego County, and UC San Diego. Throughout her career, Lisa has developed expertise in a myriad of fundraising avenues: institutional gifts and grants, individual philanthropy, annual campaign, planned giving, board relations, and corporate sponsorships.
Lisa and her husband are parents to three children: two in college and a high schooler. Lisa is passionate about opera, film, all kinds of music, theater, art, hiking, Israel, and making it fun for college students to engage Jewishly.
Originally from New York, Jennifer now lives in San Diego with her husband and two children. Jennifer earned her B.S. in TV/Radio and her Masters in Corporate Communications from Ithaca College in upstate NY. She also has a certificate in non-profit management from Georgetown University. Jennifer served as the Director of Alumni Engagement at Georgetown University for over 5 years where she managed a team that oversaw Homecoming Weekend, Reunion and alumni volunteers. Prior to working at Georgetown, Jennifer worked in marketing and management positions at Kaplan test Prep & Admissions and Student Advantage. In her spare time she loves to dance, exercise, travel, bake and spend time with her family.
Wendy grew up in San Marcos, California and loves working with the Jewish community in her home town. Wendy earned a B.A. at UC San Diego in Communication with a minor in Visual Arts: Film and Video in 2009 and a Masters in Communication at San Diego State in 2011, where she was also an active member of Hillel. Before becoming a Hillel professional, Wendy worked for Girl Scouts of San Diego in their camp and outdoor programs and as an Outreach Coordinator for a federal GEAR UP grant at Palomar College. When Wendy is not working she enjoys traveling, reading, watching movies, and being outdoors.
Edden is originally from Oak Park, California and has been at SDSU Hillel for three years. She graduated from the University of Arizona with a double major in Communication and Judaic Studies and recently earned her Masters of Science in Organizational Leadership and Innovation from Hebrew Union College. Edden has a deep background in Jewish culture from Jewish youth groups to sleep away camp. Edden grew up at Camp JCA Shalom from camper to unit head and loved the opportunities camp gave her to build Jewish community away from home. This experience was what motivated her to want to create this feeling for others. Edden loves to spend her free time hiking, going to the beach, eating lots of desserts and of course, binge-watching Netflix.
Elad recently finished his legal internship and is now studying for the bar examination. For the last semester of law school he participated in the student exchange program at UM. When he finished law school he took a year off to travel and open a business in Australia. He hopes to make a positive impact on students at the University, and show people everywhere just how amazing Israel is.
Originally from Chicago, Shoshana studied English and art in Ohio at the College of Wooster. There, she was Hillel president, on the newspaper, active in the outdoors club and her local sorority, and co-founder of an Israel discussion group. After graduation, she went to Israel on Birthright and then spent six months in Tel Aviv working at the magazine Timeout Israel. On her Birthright trip, she was moved by her experience engaging with young Jews developing their Jewish identities and returned to the U.S. with a passionate drive to pursue Jewish education. Now after working as a 5th grade Hebrew school teacher, in the Shorashim office, and staffing a Birthright trip, she can't wait to continue creating inspiring ways to get the younger generation excited about Judaism at USD and SDSU.
Glenda is originally from Cape Town, South Africa and has lived in San Diego since 1987. She has been happily involved in Jewish communal work for most of this time. She has a BA in psychology and a Masters in Education , both from the University of Cape Town.When not working, Glenda is passionate about Israeli dancing and going on long walks and talks. She enjoys studying Hebrew and Jewish texts and is an avid reader of biographies and novels.
A native Californian, Lisa graduated from UCLA with degrees in Psychology and Hebrew and received her Masters from Middlebury College in Spanish. Lisa began her career in the Jewish world at Berkeley Hillel and most recently worked for Honeymoon Israel as the Director of Community Engagement for the SF Bay Area. She is passionate about building community, facilitating important conversations, and exploring creative ways to engage with Judaism. Lisa also loves to travel and has spent significant time living in both Spain and Israel. In her free time, you can find Lisa eating cheese, dancing, reading, playing guitar, speaking Spanish, or spending time outdoors with her adorable husband, sweet toddler, and feisty dog.
Born and raised in Tel Aviv, Shir comes to UC San Diego and CSU San Marcos from Ben Gurion University in the Negev, where she was involved in Ben Gurion Hillel's social practicum supported by Rothschild Ambassadors. Shir has a large family with five siblings. She loves working out and dreams of running a half marathon one day.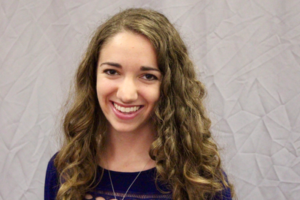 Nikki grew up in Olney, MD and attended University of Delaware, where she studied International Relations and Jewish studies, and was student President of UD Hillel. She loves traveling and writing, and has a blog with Times of Israel. After university, Nikki took a gap year during which she spent 5 months in Israel interning at the Jerusalem Institute of Justice, learning, and volunteering; afterwards, she volunteered in Greece where she taught English to refugees. They were both life-changing experiences, and she is excited to continue on her journey as the Springboard Ezra Fellow at CSU San Marcos and UC San Diego Hillel!