Laura Klivans
 Laura Klivans is a third year majoring in religious studies and minoring in ISCOR-International Security and Conflict Resolution.
How did you become involved with Hillel?
Someone that I went to a Jewish summer camp with worked at Hillel and she told me that I should get involved and check out the events. Later, I became one of the Jewish Peer Interns working for Hillel.
Where did you travel last semester?
I studied abroad in Scotland and visited Paris, France, Ireland, Germany, the Netherlands,Poland, Austria, and Czech Republic.
What was your favorite place?
Ireland was my favorite because it was really beautiful and the people were very friendly; but Auschwitz in Poland was very powerful and a moving experience.
What is your favorite holiday or tradition?
Rosh Hashanah because all of my family comes over for dinner and it is really fun seeing everyone and spending time together.
Do you have a favorite quote or motto?
"Treat the other man's faith gently; it is all he has to believe with. His mind was created for his own thoughts, not yours or mine." -Henry S. Haskins
---
Benjamin Mashian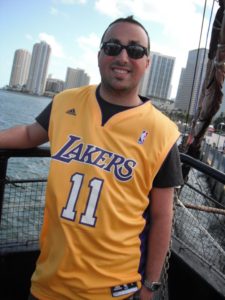 Benjamin Mashian is in his first year at SDSU as a graduate student studying Bio- Engineering.
How did you become involved with Hillel?
When I first came here, I looked up where there are Jewish events and I went to the first BBQ at Hillel.
What does your typical day look like?
Wake up, shower, eat breakfast, go to classes, study, and then go home. On my off days, I relax or study and go out at night with friends. I met most of my good friends through Hillel and by being involved with Jewish life on campus.
If you could have any superpower, what would it be?
Being in multiple places at one time because I like being social and I like doing many different things so I can't do that if I'm in just one place.
What is your favorite place in San Diego?
Mission Beach or Pacific Beach. I love San Diego because it has a very calm environment and no one is really in a rush to do things. Plus, I love the beautiful girls!
What three words best describe you?
Intelligent, humorous, and lovable.
---
Victoria Zakinova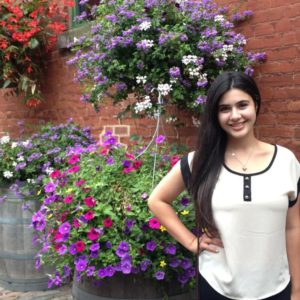 Victoria Zakinova is a first year student studying Business Administration: Financial Services.
How did you become involved with Hillel?
My sister helped get me involved.
How has your involvement with Hillel enhanced your experience at SDSU?
Going to events and meeting new Jewish friends is a lot of fun.
Share an interesting and little-known fact about yourself.
I compose music- piano instrumental pieces specifically.
Do you have a favorite quote or motto?
We should live as though our lives would be both long and short- Bias
If you could learn one random skill, what would you learn?
How to surf!
---
Josh Lytton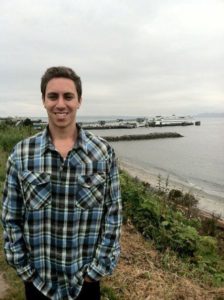 Josh Lytton is a fourth year, studying biology/pre-med.
How did you first become involved with Hillel?
Freshman year I started attending dinners. Met a lot of new people.
What else are you involved in at San Diego State?
I am the fundraising chair in the American Medical Student Association, an active member of Flying Samaritans SDSU, and an Active member in Rotaract SDSU. I'm also a member of the Phi Kappa Phi honor society.
What would you like to do after you graduate?
I plan on attending medical school after I graduate.
What has been your biggest accomplishment thus far?
My biggest accomplishment is succeeding this far and learning how to balance everything I do.
If you could spend your summer any way possible, what would you do?
If I could spend my summer any way possible, I would spend it by the beach or by the lake for part of the summer, and spend the other half shadowing surgeries and working in the out patient unit of a surgery center.
---
 Karlie Gross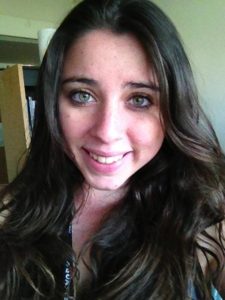 What is your major and what year are you?
I am a Kinesiology- Pre Physical Therapy major and I am a sophomore!
How did you first get involved with Hillel?
During the first two weeks of freshman year I saw the table on campanile and I asked about where I can find a conservative temple for high holidays not knowing what Hillel was at the time! I ended up going to the Welcome Back Barbeque and meeting some really nice people, and have been going when I can since.
What is your favorite thing about San Diego?
I love the weather, people, and just the overall atmosphere.
You just went on Birthright recently right? How would you describe that experience?
I went on Birthright over the summer and absolutely loved it! I can't even describe the experience; it was filled with new friends, new cultures, and lots of adventure and learning.
What is one thing people don't know about you?
I used to pole vault in track in high school, and I am a black belt in Tae- Kwon- Do!
If you could have dinner with any famous person, dead or alive, who would it be and why?
Probably a pro soccer player- like Mia Hamm or David Beckham, because I would have a ton to talk about and I would love to hear about all their experiences making it to the pros!