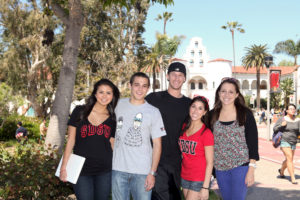 Nearly 90% of all American Jews go to college – at a time in their lives when they are setting the patterns for their adult lives. Hillel of San Diego is the only Jewish college organization poised to engage the majority of the 5,000 university-age Jews in San Diego.
A student's involvement with Hillel is one of the strongest predictors of future Jewish leadership. According to a 2010 study by the Avi Chai Foundation, it is a stronger predictor than Jewish day school enrollment, Jewish camp experiences or membership in a Jewish youth group. As the leading authority on Jewish campus life, Hillel reaches, engages and equips tomorrow's leaders today.
Thanks to the generous support of donors like you, Hillel of San Diego is able to provide hundreds of activities each year to engage young Jews at UCSD, SDSU and North County. Hillel encourages students of all backgrounds to form deep, personal connections to Jewish life, learning and Israel, through Jewish exploration, leadership and a sense of belonging. Hillel provides critical opportunities for students to build lifelong connections — to Jewish life, to each other and the broader Jewish community.
Parents, alumni and friends in the community contribute 70% of Hillel of San Diego's total revenue each year. While Hillel works closely with San Diego's colleges and universities, they provide no direct financial support. As an independent non-profit 501(c)3 charitable organization, Hillel relies on the generous support of individual donors to provide programs that engage San Diego's university-age Jews.